* This page contains affiliate links. Meaning at no cost to you, we may receive a tiny referral commission when you purchase through our links. (Full Disclosure)
Who else is excited about the trans-Tasman bubble opening soon? For me, it feels like a breath of fresh air being able to travel again, and we can't wait to get back on the road!
As an ex-Sydneysider, we've done the East Coast drive many times, sometimes as a weekend getaway, sometimes as an extended road trip. But there are so many attractions along the coast that we can't get enough of this legendary Pacific Coast road trip crossing the borders from Sydney to Brisbane.
You could potentially do this road trip in 7-14 days, depending on your schedules. But hey, what's the rush? Many of the larger cities and towns such as Coffs Harbour, Port Stephens, Port Macquarie, Byron Bay, and Gold Coast can be a destination on its own. So consider travelling to these places separately if you're in the country for a period of time.
In this post, we will share our jam-packed itineraries covering the best places to stop stretching from Sydney to Brisbane, crossing the borders from NSW to QLD along the amazing East Coast of Australia.
How long does it take to drive from Sydney to Brisbane?
Sydney to Brisbane is one of the most iconic road trips in Australia. Stretching over 900km along the Pacific Coast, this journey hugs the most beautiful coastline known for epic Aussie adventures. A non-stop road trip from Sydney takes just under 12 hours to get to Brisbane via Pacific Highway.
Is the long drive worth it?
With so many tourist attractions stretching from Sydney to Brisbane, it's worth breaking up the drive. Explore some of the best coastal towns and draw-dropping landscapes in Australia on the legendary Pacific Coast road trip.
📖 You might be interested in
Brisbane Top 10 Most Relaxing Things To Do Babymoon Destination
---
Sydney to Port Stephens
Suggested Time Frame: 3-5 Days
Recommended Overnight Stays: Central Coast, Newcastle, and Port Stephens
Palm Beach
You may have heard of Palm Beach from the famous Australian soap opera Home and Away. Palm Beach is Sydney's northernmost point, and although a little detour from the highway, it's one of the most iconic beaches to check out in Sydney.
Hike up to Barrenjoey Lighthouse, and you will be rewarded with the best panoramic view of the headland. If you're there in winter, keep an eye out for migrating whales far in the distance, as Barrenjoey Lighthouse is one of the best whale watching vantage points in Sydney.
Recommended Restaurant: The Boathouse Palm Beach
© Photos by Kida
Mooney Mooney & Hawksbury River
It's inevitable to drive past Mooney Mooney if you're travelling via Pacific Highway. Hawksbury River is popular for fishing, so grab some fish and chips or stretch your legs here.
Australian Reptile Park
If you haven't been to one of the Zoos or Wildlife Parks in NSW yet, be sure to stop by Australian Reptile Park and get a photo with the cuddly koalas!
© Photos by Kida
Somersby Waterfalls & Picnic Area
This waterfall is situated inside Brisbane Water National Park near Gosford. Follow the walking track through the rainforest for a great view of the falls. It's an easy 500m walk return, but do note the track can be slippery during rainy seasons. There is a free barbecue facility and picnic area nearby if you want to pack some lunch.
Gosford
Gosford is the business hub of Central Coast, quiet on a weekday but a great place to stop for lunch overlooking Brisbane Water in case if you skip the detours above!
© Photos by Kida
Central Coast Pelican Feeding
The Entrance is a must-visit place with great vibes and the extraordinary daily Pelican Feeding show at 3:30 pm. This tradition has been around for 20 years and is still attracting visitors from all over every day. These local pelicans are not shy, so don't get too close during feeding time!
We love the atmosphere here at Central Coast. It's a family-friendly town with water fountains and a beautiful view of Yallawa Island. There are many fancy waterfront restaurants and seafood takeaway shops to choose from. And if you decide to stay overnight, explore some of the hiking trails and beautiful beaches.
© Photos by Kida
Lake Macquarie
One of my fondest memories is camping at Belmont Lakeside Holiday Parks at Lake Macquarie. This peaceful town is surrounded by calm water, perfect for family and kids to play with inflatable water toys.
There are many great fishing spots in Lake Macquarie, so stop over and get a taste of the relaxing local lakeside lifestyle here at Lake Macquarie.
© Photos by Kida
Newcastle
Newcastle is the second most populated harbour city in NSW. Many Sydneysiders come here for a weekend getaway, so Newcastle alone could take up a couple of days to explore.
If you're a nature lover, you'll love a walk at Blackbutt Reserve. It's equipped with a BBQ facility, playground, and native wildlife.
Take a walk along Merewether beach.
Drive to Nobbys Head, and enjoy a leisure stroll along Nobbys Road to soak in the views of Horseshoe Beach and Nobbys Beach. It takes about 10-15 minutes to get to the Lighthouse.
Last but not least, do the Memorial Walk before heading back onto the Pacific Highway.
© Photos by Kida
Skydive Newcastle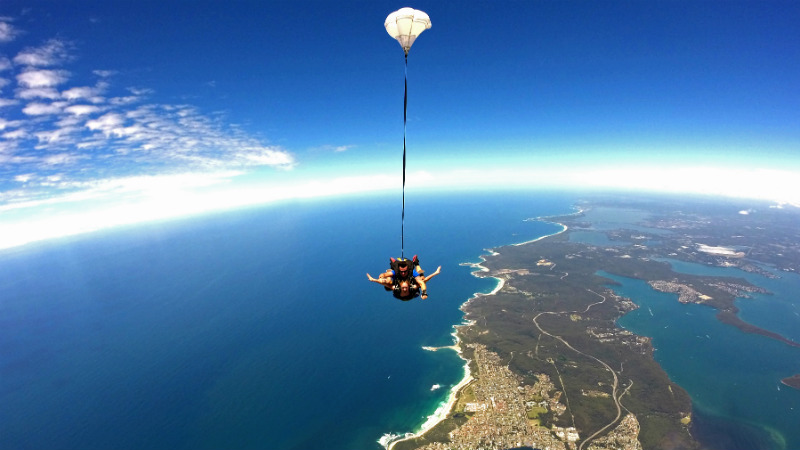 Anna Bay
Just before reaching Port Stephens, Anna Bay is worth a stop. You can find many unique Ozzie experiences here. This place is known for its dunes, so you must try sandboarding and take a 4WD tour. Camel rides with Oakfield Ranch are among the top things to do in this region, especially for first-timers.
© Photos by Kida
Port Stephens
Port Stephens is a main coastal town on the Pacific Coast. It's our recommended destination to settle for a night or two. This town is known for its beautiful bays and beaches, water sports, dolphin & whale watching cruises, and snorkelling or scuba diving tours.
© Photos by Kida
Port Stephens Top Things To Do
📖 You might be interested in
Road trip with kids best tips and packing list
---
Port Stephens to Coffs Harbour
Suggested Time Frame: 2 Days
Recommended Overnight Stays: Port Macquarie and Coffs Harbour
Seal Rocks
At first, this place didn't stand out to us, but we were mesmerised by the beautiful Myall Lakes National Park at Seal Rocks after further exploration.
If we ever get to come back, we would book a stay at Reflections Holiday Parks. If you're someone who can never get enough of beaches, then Seal Rocks is a must stop.
© Photos by Kida
Forster
This cute little family coastal town has great vibes around the Coolongolook River. Locals love chilling on the beach and playing in the parks with kids.
There are some really nice waterfront restaurants like The Tartt Cafe, Hamilton's Oyster Bar, and The Sicilian. Check out 9 Mile Beach before heading back on the road.
© Photos by Kida
Port Macquarie
This is another major coastal town worth a few days of exploring. There are so many things to do here in Port Macquarie, you could easily spend 3 days soaking up the sun.
Port Macquarie is one of our favourite weekend getaway destinations for years. Hire a jet ski or go on a fun ride at Port Jet, kayak on Hastings River, ride a camel on the beach, visit the Koala Hospital, and take a scenic cruise.
© Photos by Kida
Hat Head
If you have some extra time, stop by Hat Head. Hat Head is a small coastal town with a long stretch of beach. You can drive up to Captain Cook Lookout and walk up to Smoky Cape Lighthouse.
Nambucca Heads
There are 2 lookouts for a view of Nambucca River – Pilot Lookout & Rotary Lookout. It's one of the mid-point destinations to stay overnight if you're on a road trip to and from Brisbane. Walk the V-Wall Outdoor Gallery, where people paint their heartfelt messages on the rocks along the boardwalk. Some of them are actually very inspiring.
© Photos by Kida
Coffs Harbour
Halfway Point Between Sydney & Brisbane
Coffs Harbour is the halfway point between Sydney and Brisbane. Many tourists come to Coffs Harbour just to take a photo with the iconic Big Banana, but there is so much more to do in Coffs Harbour.
Walk along Jetty Beach, drive up to Forest Sky Pier and Korora Lookout. Watch birds up-close at Muttonbird Island Nature Reserve. Smooch with a dolphin or a seal, and feed a penguin at Dolphin Marine Magic.
Browse through the list of activities to do in Coffs Harbour for your inspiration on Viator.
© Photos by Kida
📖 You might be interested in
---
Coffs Harbour to Byron Bay
Suggested Time Frame: 1-2 Days
Recommended Overnight Stays: Byron Bay
Grafton
If you continue driving up north along the Pacific Coast towards Byron Bay via Pacific Highway, you will come across Clarence river – the largest river on the eastern seaboard. There isn't a lot to see apart from regional landscapes and rural towns. So if the drive gets too long, you can make a small detour to the historic town of Grafton.
Ballina
Ballina has the closest airport to Byron Bay and is known for its iconic Big Prawn on River St. Don't miss the one and only Macadamia Castle and Animal Park. You can find a whole list of things to do on Discover Ballina.
Byron Bay
We love the bohemian and gypsy beach vibes at Byron Bay. Byron Bay has so much to offer, from breathtaking encounters with nature to guided tours and adrenaline activities. You will be spoiled for choice here.
Here are our top bucket list to tick off in Byron Bay:
Follow the Cape Byron walking track up to the Lighthouse for a sweeping view of Byron Bay.
Enjoy the sun amongst beautiful bikini bodies on Belongil Beach.
Blend in with the hippie-chic lifestyle on Johnson St, check out some of the boutique shops, and people watch at a cafe!
Don't miss the Sunday Market!
© Photos by Kida
It's worth mentioning, there's a little farm-themed restaurant The Farm Byron Bay not too far from Byron Bay. It's a restaurant nestled within an animal farm, kids will love playing here while you enjoy some lunch. There is a market, playground, and excellent food, making it a great stop whether you're coming into Byron Bay or en route to Brisbane.
© Photos by Kida
Byron Bay is one of the major destinations that's worth a weekend stay.
Find your perfect accommodation in Byron Bay below.
---
Interactive Packing List for Every Vacation
If you need a packing list for things like travel essentials, baby bag, beach vacations, camping, clothing and toiletries, be sure to use The Ultimate Interactive Packing List we've compiled for families just like yours.
This packing list is interactive, meaning you can tick them off after you pack to make sure nothing is left behind!
---
Byron Bay to Brisbane
Tweed Coast Road
Rather than driving on Pacific Hwy, make a turn at Wooyung Road and drive on Tweed Coast Road next to a long stretch of sand. You'll pass Potts Point and Pottsville – a little coastal town. Then stop by Hastings Point Lookout for some panoramic coastal view.
© Photos by Kida
Tweed Heads & Coolangatta Beach
We drove past this beautiful little coastal town, and it took our breath away. Surrounded by Terranora Creek and Tweed River, the water here is glistering. We would definitely consider staying here for a change next time! It's one of those hidden gems that is under-rated.
Burleigh Head National Park
Burleigh Head is a family-friendly coastal suburb before reaching Gold Coast. Have a picnic at Justins Park and take a short hike up to Tumgun Lookout. You can see the silhouetted skyline of Gold Coast in the far distance. Walk along the beach, and try the award-winning California Tacos!
© Photos by Kida
Gold Coast
Almost reaching our final destination, you could actually decide whether you want to base yourselves in Gold Coast or Brisbane. Our family prefers Gold Coast much more as we love staying close to the beaches and away from the urban cities' hustle and bustle.
© Photos by Kida
There are so much to cover on the Gold Coast that our family was left with many bucket list activities unchecked after a 4-day stay.
Gold Coast is known for having the best theme parks in Australia: Sea World, Dream World, Movie World, Wet'n'Wild, and Country Park just to name a few.
We will cover Gold Coast in a separate blog post. In the meantime, check out these amazing travel deals or head on over to Destination Gold Coast for some ideas.
We're a family of beach lovers, so we would personally recommend staying on the Gold Coast for a few nights before heading further up north or going back home. You can search for a hotel on the Gold Coast below.
Stradbroke Island & Point Lookout
Whether you're staying on the Gold Coast or in Brisbane, consider an island getaway to Stradbroke Island, also known as Straddie. This is a paradise for island lovers. Check out Stradbroke Island's website for more info!
Brisbane
Finally, our Pacific Coast road trip from Sydney to Brisbane is coming to an end.
We spent 3 days in Brisbane before making our way back to Sydney, you can read about our relaxing babymoon vacation in this post here: Brisbane Top 10 Most Relaxing Things To Do.
Alternatively, browse through the highlight attractions and tours in Brisbane here.
© Photos by Kida
---
The Top 8 Pacific Coast Road Trip Stops
1. Central Coast
2. Lake Macquarie
3. Newcastle
4. Port Stephens
5. Port Macquarie
6. Coffs Harbour
7. Byron Bay
8. Gold Coast
---
Final Thoughts
We did this Australian East Coast drive from Sydney to Brisbane as our babymoon getaway. We really enjoyed this epic Pacific Coast road trip and felt like there were way too many hidden gems that we missed along the way.
Some say 'a beach is a beach', and they're all the same after a while. For me, I could never get sick of this beautiful blue planet. Perhaps one day, our family of 4 could fulfil the Australian dream of hiring a campervan and drive around Australia's coastlines without a return date.
Don't Be A Stranger!
We'd love to get to know our readers. Leave your thoughts below!
Find us on Youtube!
Tell us about your itinerary, how are you planning to do the legendary Pacific Coast road trip from Sydney to Brisbane?