* This post contains affiliate links, meaning at no cost to you, we receive a small commission for purchases made through our links. Your support allows us to continue delivering free content to help families just like yours. Thank you. (Full Disclosure)
Rotorua is one of the most popular tourist destinations in New Zealand, and for good reasons! This magical place offers unique natural wonders that you simply can't get anywhere else in the world.
Let me take a guess. You have Rotorua on the bucket list because you either want to see the spectacular surreal wonders of geothermal pools, soak in natural hot springs, or try the Skyline Luge…
In this post, we will share the top things to do in Rotorua and some of its best geothermal pools to visit in Rotorua with kids. Including a beautiful local park where you can experience a preview of what Rotorua has to offer, FREE of charge!
---
What is Rotorua known for?
Rotorua is known for its geothermal activities, including jaw-dropping geothermal parks, bubbling mud pools, hot thermal springs, and geysers. The "Sulphur" City is also known for its Maori cultural heritage, Lake Rotorua, and Skyline. We will cover some of the highlights in this post, including top places to go for free.
Does it smell in Rotorua?
Honestly, yes Rotorua stinks. It smells like rotten eggs as soon as you enter Rotorua, but it's a smell you can get used to and start to appreciate once you've seen the geothermal activities.
How much time do you need in Rotorua?
We would say you'll need a minimum of 2 days in Rotorua to cover the highlights this city has to offer. However, our family would recommend 3-4 days if it's your first time here. You can find a list of the highlights in this post.
---
You might be interested in
What to Pack For Road Trips with Kids
---
Skyline Rotorua
Skyline Rotorua is typically the first and must-stop for travellers to Rotorua. The gondola cabins have been upgraded over the years, and it is now a fun and safe experience for the whole family.
Enjoy the sweeping view of Lake Rotorua as you go up to the top, and spend some time watching people screaming their way down on the luge at one of the vibrant cafes & restaurants up the top!
© Photos by Kida
For the adrenaline seekers, Rotorua Luge will get your heart pumping. You can purchase a combo for multiple luge rides or get an adventure pass!
Choose from Skywing, Ziplines, Mountain Biking, Star Gazing, Night Luge and more, it is one of the destination highlights of New Zealand, and you will walk away with unforgettable memories from Skyline Rotorua.
Rotorua Skyline Gondola Deals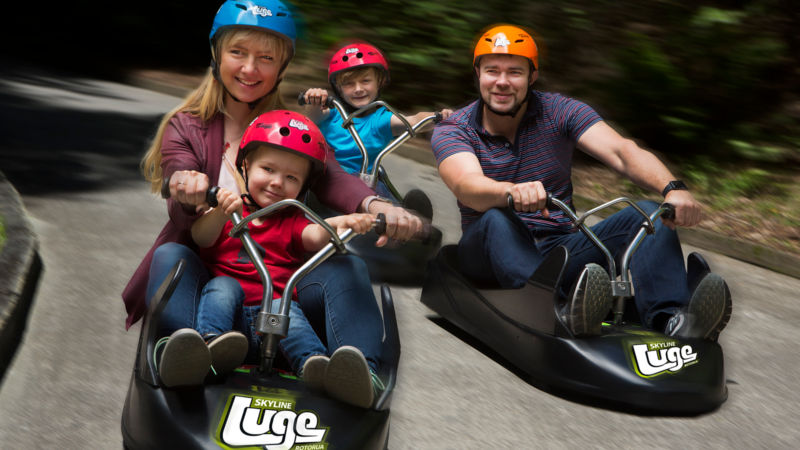 ---
Wai-O-Tapu Thermal Wonderland
If you only have time for one geothermal park, our top recommendation is Wai-O-Tapu Thermal Wonderland. I have never seen anything like the Champagne Pool and Devil's Bath. The colours of these natural wonders are out of this world, and they look photoshopped with extreme saturation. No wonder Champagne Pool is one of the top 10 most surreal world wonders!
---
Hot Tips
If you can, visit Wai-O-Tapu in the morning. Lady Knox Geyser show starts at 10:15 am.
Rotorua i-Site Visitor Centre offers discounted entry tickets to Wai-O-Tapu.
Champagne Pool
© Photos by Kida
Devil's Bath
© Photos by Kida
The Rest of Wai-O-Tapu Mud Pools
© Photos by Kida
Wai-O-Tapu Tours
---
Waimangu Volcanic Valley
Waimangu Volcanic Valley and the boat cruise has been one of our family's fondest memories in Rotorua. We found an amazing deal that was 50% off the original price. It turned out to be one of the most unusual experiences for our kids to get up close to see the geothermal activities.
© Photos by Kida
Compared to Wai-O-Tapu, Waimangu is more of a self-guided hike in the volcanic valley. Follow the path to each numbered site on the map, and read all about the wonders of that particular geological formation.
© Photos by Kida
The Inferno Crater is absolutely jaw-dropping, the blue colour is so pure that I truly believe it is sacred.
© Photos by Kida
If you have purchased a ticket to include a boat cruise (which we highly recommend, by the way), there are a few bus stops where the shuttle will pick you up from.
They will take you to Lake Rotomahana, where you get to see the beauty of Waimangu Volcanic Valley from a whole new perspective. At the end of the cruise, you get to see geothermal activities and small geyser displays along the shoreline.
© Photos by Kida
Get Your Travel Deals Here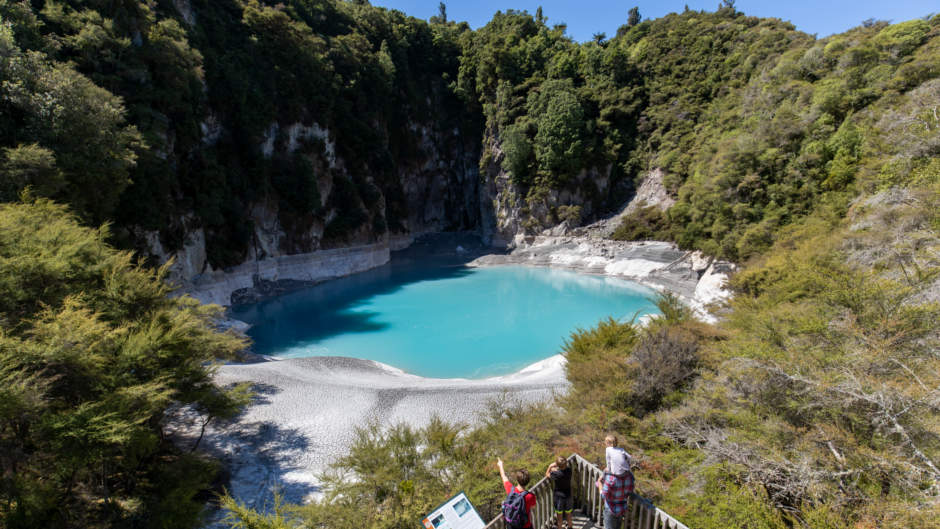 ---
Te Puia Geothermal Valley
Te Puia is another amazing geothermal park that highlights Maori Culture. There are package deals like this one that includes Maori cultural performance, hangi buffet dinner, pohutu geyser, history, kiwi encounters, and arts & crafts.
We particularly enjoyed watching Pohutu Geyser. Hangi buffet dinner was a unique experience, a must-do for first-time travellers to New Zealand.
© Photos by Kida
---
Maori Village Cultural Tours
Alternatively, if you're interested in learning about New Zealand's Maori Culture, consider Mitai Maori Village, Whakarewarewa Village or Tamaki Maori Village.
---
Hells Gate Geothermal Park and Mud Bath Spa
Hells Gate and Mud Bath are on our bucket list, we'll have to go without the kids one day!
Hells Gate is known for its mud bath, best for skin rejuvenation and ease arthritis. Combined with geothermal heat and relaxation, I totally believe it does wonders to your body and soul!
---
Hot And Cold – Free!
Don't miss your chance for a FREE mud bath spa at Hot and Cold! (Address on Google Map)
We came across this little hidden gem on the way back from Wai-O-Tapu Thermal Wonderland. This is an all-natural geothermal pool where you can soak in and enjoy for as long as you like! So bring your swimwear and towels, and slap some mud on your face!
---
Hot Tips
Don't put your head underwater, there are warning signs of amoebic meningitis.
© Photos by Kida
---
Kuirau Park – Free!
We discovered Kuirau Park on the way to Wai-O-Tapu, and there were steams coming out of the ground! We had to come back and explore this park more, and it turned out to be a pleasant surprise.
Kuirau is pronounced [k'way-lo], by the way. This park is hugging a beautiful crater lake with a playground and BBQ facility nearby. There are fenced off mud pools and 2 foot baths around the back of the lake, so don't miss out on this free attraction with the kids!
© Photos by Kida
On Ranolf St side of the park, there are more mud pools and lots of photo opportunities! If you're new to Rotorua and would like to see what the fuss is about for free, this is a great place to start!
Kuirau Park is very close to our accommodation, you can read our full review on Sudima Lake Rotorua Hotel here.
---
You might be interested in
Road Trip with Baby 7 Genius Tips
---
Mini Golf with Rabbits!
We only just found out that you can play putt-putt golf with rabbits at Mini Golf Rotorua! That was something new & different, so we had to try it out!
The bunnies here are used to people that you can get really close to them. Even pat them and feed them while waiting for your turn at 18 hole Putt Putt Golf! They have rewards for the best gamers, so give it your best shot!
Rotorua Mini Golf Deal
We found this awesome deal online and only paid half price on BookMe for this fun activity.
---
There you have it, the top things to do in Rotorua with kids. These unique experiences are not found anywhere else in the world. No wonder Rotorua has been a favourite destination here in New Zealand.
Looking for a stay in Rotorua?
We have filtered the best accommodation for families here.
---
Road Trips from Auckland: South
Don't Be A Stranger!
We'd love to get to know our readers. Leave your thoughts below!
Connect with us on Youtube!
Which activities will you be doing? Share your Rotorua experience with us below!